Shopping Cart
Your Cart is Empty
There was an error with PayPal
Click here to try again
Thank you for your business!
You should be receiving an order confirmation from Paypal shortly.
Exit Shopping Cart
Reflections Counseling of Denton
"Compassionate, Unbiased Care"
| | |
| --- | --- |
| Posted on October 9, 2015 at 9:09 AM | |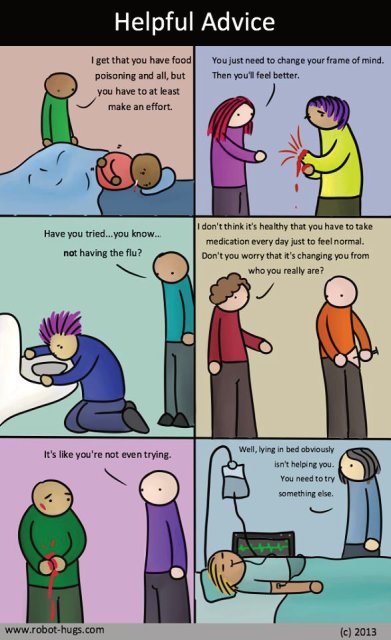 I had recently come across this comic strip that was originally from a blog called Robot Hugs which eloquently expresses how much of society sees mental illness and how it is treated in comparison to physical diseases. Although it is a tad exaggerated, it doesn't dampen the gravity of the way some individuals view mental illness. Unfortunately, despite the
progression of contemporary psychology and psychiatry today, society still views mental illness with a stigma. Often, individuals who are suffering from depression, anxiety, and any other mental illness are viewed as weak and unable to emotionally adapt to the stressors and the harshness of life. However, what people fail to understand is that just like physical diseases, individuals also do not have control over their mental illnesses. Mental illnesses are caused by a multitude of factors, such as genetic heritability, the occurrence of chemical imbalances in the brain, as well as other environmental causes.
According to the Diathesis-Stress model, different people have different predisposed vulnerabilities to stressors, which are environmental factors that can disrupt an individual's psychological stability that can trigger the development of a mental disorder. Individuals have an inherent susceptibility or vulnerability to stressors, and some people may be more at-risk to mental illnesses compared to others. The more susceptible an individual is to these stressors, the less environmental factors it will take for them to develop mental illnesses. If the individual's predisposition in conjunction with the amount of stressors extends beyond his or her mental capacity, he or she will develop a disorder.
Let's talk about this in simpler terms by comparing people's ability to handle stress to jars of water. In this example, the water in these jars represents stressors. The size of the jars represents the capacity for individuals to handle stressors. The sizes of the jars will vary, just as people's ability to cope with stress will vary. Similarly, the amount of water each jar can hold will also differ just as the amount of stress one individual can cope with will differ. The big jars and/or jars with less water can handle more water, just as individuals with a greater capacity to cope and/or are experiencing less stress can handle more stressors. However, small jars and/or jars that are already full cannot take on much more water, making them unable to hold as much water as the other jars. This is similar to people who have less ability to cope and/or are already experiencing lots of stress in their life and are unable to cope with added stress. If a jar is constantly filled with water without any means of draining it, it will eventually overflow. Just like individuals when stress exceeds our mental capacities, we become overwhelmed to the point of dysfunction in our lives.
Therefore, just as different people have varying immunity (immune strength) and susceptibility to sickness, every individual has a varying susceptibility to mental illness as well. Being unable to see the physical manifestation of mental illness does not make them any less grave than a physical disease or injury.
The reason I shared this comic strip is to raise awareness of how we interact with those who are suffering from mental illnesses. A lack of understanding can lead to, whether or not deliberately, a lack of empathy.
Source:
Categories: Mental Health Awareness
/